LOF Solar Success Case Hotel Jakarta Amsterdam Wins the AAP Gold Award 2019/09
[Hsinchu, Taiwan, Sep. 12, 2019]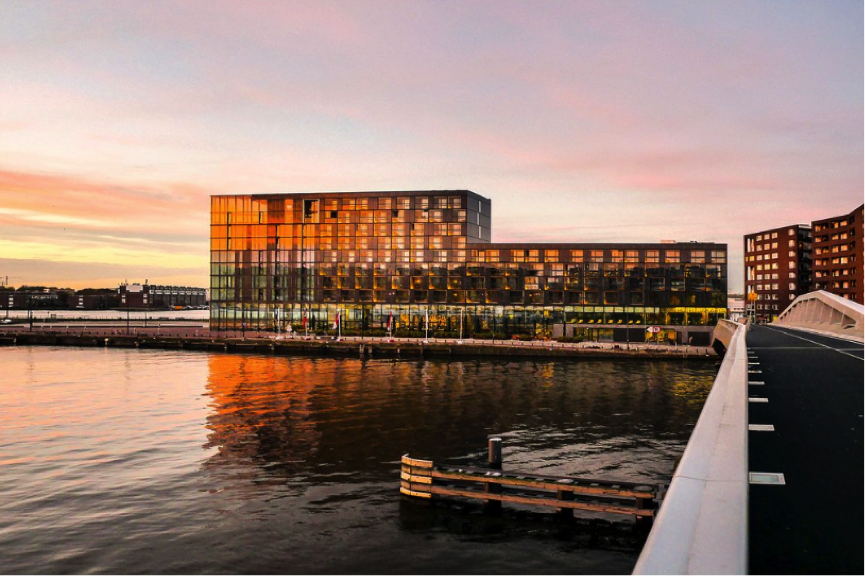 LOF Solar Corporation 2018 success case - Hotel Jakarta Amsterdam - won the AAP (Amsterdam Architecture Prize) gold award 2019, celebrating the important and valuable developments in architecture. The high-efficiency photovoltaic expert LOF Solar is honored to have its True Steel TM color solar cell incorporated into the hotel BIPV (Building-integrated photovoltaic) façade and terrace rooftop design.
Amsterdam's Hotel Jakarta is the 15th hotel established by the WestCord Hotel Group. Operation commenced in June 2018 marking WestCord's 50th anniversary. Sustainable concepts and BREEAM (Building Research Establishment Environmental Assessment Method) principles were used to guide the processes of building design, construction, and subsequent operation and maintenance. The hotel scores 72% on the BREEAM rating scale and already obtained the BREEAM Excellent certificate - the highest honor in the Netherlands thus far.
Hotel Jakarta incorporates glass-glass BIPV panels into its façade and terrace rooftop design. A subtropical garden is situated inside the hotel terrace where the ceiling is covered by glass-glass BIPV with LOF true steel color solar cells inside. The BIPV panel area is 700 m2, each with a 50% transparency to bring a sufficient amount of sunlight into the garden. This phenomenal design also reduces the consumption of electricity used for indoor lighting and heat insulation. The Indonesian-influenced interior design also uses an abundance of wooden structures and bamboo to create a spectacular, warm atmosphere.
A total of 361 pieces of BIPV panels were installed, including 25,000 pieces of LOF true steel solar cells. The customized glass-glass BIPV has different sizes, including 17pcs, 24pcs, 60pcs, 64pcs, and 80pcs solar cells - each for specific uses. The total power output is 87.77kw. The interior of the 9-story hotel is assembled with natural elements, while the exterior is outfitted with wood, glass, and solar panels to complete the eco-friendly look. These features make this 4-star hotel a unique and sustainable piece of architecture located at the riverfront where ships once left for new world Jakarta.
p.s. The LOF color BIPV modules will be exhibited at the Indonesia Taiwan Expo on September 26-28, 2019 in the exhibition hall of Grand City Convex Surabaya and on October 23-26, 2019 in the Jakarta convention center.
About LOF Solar Corporation
Since 2008, LOF Solar has been a world-leading inventor, developer, and manufacturer of high-efficiency color solar cells. LOF solar is also a tribute to Prof. J.J. Loferski, a solar pioneer, who was a great teacher and inspiration to LOF's founder when he studied at Brown University in USA. Each day, LOF is devoted to making the world greener, merrier and prettier via colorful building-integrated photovoltaic (BIPV) solution. Visit http://www.lofsolar.com for more information.